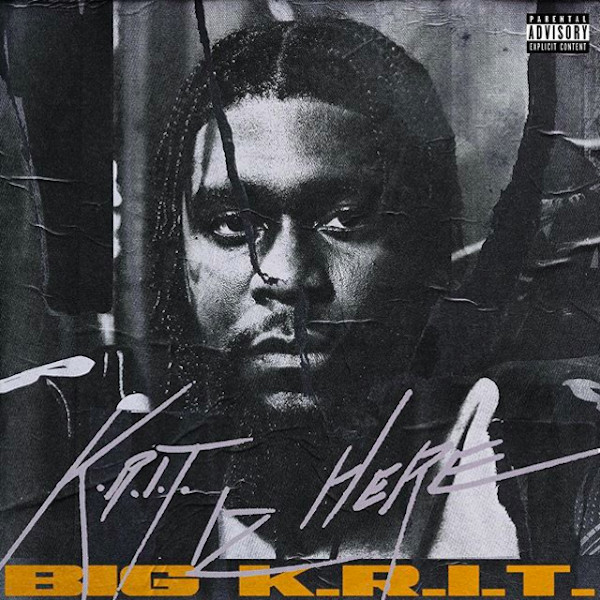 So I'll be very honest, folks: when I heard where Big K.R.I.T. was planning to go with this new project, my level of surprise was split between "greatly" and "not at all".
Because on the one hand, hearing that Big K.R.I.T. was trying to make a mainstream-accessible trap album seemed like the last thing you would have expected from him - I get that Def Jam royally mismanaged your deal and promotion and your music has always had crossover potential, but why in the Nine Hells would you go independent to just release the same style of music in an over-saturated subgenre of rap? Especially coming off of 4eva Is A Mighty Long Time, you'd have thought that Big K.R.I.T. would delve further into experimental territory that the label would balk at, not release another album for the pile that would wind up getting overshadowed by acts in the same subgenre with better distribution and publicity!
But on the other hand, I do get it - trap is a variant of southern hip-hop, and Big K.R.I.T. has always been one to point that out in how the style has been co-opted by other regions and even genres time and time again. So in essence if he was going to try and make the definitive trap album to put everyone else to shame, frame it as a sequel to his 2010 mixtape... well, it wouldn't be how I'd best push his talents and versatility, but I'd understand the appeal, especially if he was looking to flesh out his setlist for any festivals ahead. I was a lot more alarmed that it didn't look like he had any production credits this time around and had included a few songs from earlier mixtapes here - seemed like a questionable move for a guy whose projects always ran long - but fine, what did we get from Big K.R.I.T. Iz Here?
So here's the thing: I was expecting to be a lot more disappointed with this than I am - I'm certainly not as aghast as I was at the last Kyle Craft project, for instance. Part of that might come with the benefit of adjusted expectations and the fact that Big K.R.I.T. has put out projects I'd describe as less-than-great before, but I also think this album is suffering in comparison with 4eva Is A Mighty Long Time, similar to how ZUU was compared a bit unfavourably to TA1300 from Denzel Curry. As a project this is obviously aiming a fair bit lower than what was delivered in 2017, it's designed to play to a looser, trap party vibe, and believe it or not, I can accept that - where I take issues with this project is that I'm not quite sure it goes off as effectively in that lane as it could.
And I think this conversation has to focus most on composition and structure, because while I've been saying for years that Big K.R.I.T. could easily make mainstream accessible projects, he's always seemed more ambitious in his framing and contemplative in his content to target the basic material - it's why his songs tend to embrace a broader reference pool and his albums nearly always run long, like this one absolutely does. That's one big reason why pacing, momentum, and vibe is so important on lighter albums that are not trying to be as lyrical, which becomes a tougher bargain when the album stretches towards the hour mark, and it's one reason why Denzel Curry opted with ZUU to get in and get out as quickly as possible. It's one reason why I probably would have cut the songs from previous mixtapes to trim this down, like 'Energy' and 'Learned From Texas' - at nineteen tracks especially where the back half gets more midtempo and moody with a little less thought that we expect from K.R.I.T., it would have probably kept at least some of the momentum up. And while I'm in that territory... look, I'll admit that once I clued into the lower stakes of this project, I was a bit more accepting of content that felt a bit flimsier because Big K.R.I.T. can still paint a pretty vivid picture with a command of trap flows and cadences that can feel natural, even if his delivery is less visceral. But there's that and then there's songs that might as well double as album filler where he's punching significantly below his weight class, like 'I Been Waiting' and 'Outer Space' and 'I Made' with Yella Beezy on the hook - yeah, they might knock a little harder, but K.R.I.T. has made more tuneful and interesting songs with that approach, both here with cuts like the crashing drums of 'Believe' and especially in the past.
And I'll be honest, if I am disappointed with this project in any major way, it'd probably come most through the production, because you'd think Big K.R.I.T. would make up for light-weight content with flashier instrumentals... which occasionally come through, but the larger issue is inconsistency. I might not be the biggest fan of the 'chipmunk soul' approach with the chopped up samples on 'K.R.I.T. HERE' and I do think Awon flipped the analogous sample of 'Make It Easy On Yourself' better on his album that dropped this year than K.R.I.T. does with 'Make It Easy', but that soulful backdrop has the texture and greater focus on live percussion that lends him a lot of flavour, and when this album is at its best, like with the more developed percussion, organ, and piano touches opposite Baby Rose on 'Everytime', the faster jingling drums and pianos driving 'Life In The Sun', and especially the big jazzy flare of 'M.I.S.S.I.S.S.I.P.P.I' - thank God this album ends strong! Now K.R.I.T. has also always had his slicker side, and while 'Obvious' might be a bit more low-key with its fizzy pop, it makes up for it with Rico Love, and I was even kind of open to the g-funk tones obviously indebted to Andre 3000 on 'Blue Flame Ballet'. It's just a shame you also see cuts with the ugly shrill synths of 'Family Matters' and the off-key lo-fi guitar blend and watery autotune from WOLFE de MCHLS, who also produced the former song and who sounds flat awful whenever he shows up, frustratingly handling the hook with the otherwise really solid J. Cole collaboration 'Prove It'. At least when we get watery tones on a cut like 'Addiction' with Lil Wayne and Saweetie, as much as its an utterly ridiculous sex song from everyone involved, it at least has the potential to sound inviting!
And that takes us to the content itself... and look, I'll give credit when Big K.R.I.T. sticks the landing well, because even if 'K.R.I.T. HERE' and 'Make It Easy' ride more on ego than anything, he's got the charisma and bounce to make them feel infectious, and 'Obvious' is the sort of earnest hip-hop love song I've always liked. And while I won't call songs like 'Believe' or 'Life In The Sun' or
'M.I.S.S.I.S.S.I.P.P.I' incredibly deep - more focused on showcasing his emergence from hardship to represent the south and build his business, where I'd be more surprised if Nipsey Hussle wasn't mentioned - there's enough detail and intensity to hook me in. Similar case for 'Prove It' with J. Cole, asking those who would really trust and invest in his career to put their money where their mouth is, and J. Cole then highlighting one of his first actual fans who did it. Hell, I'd even say something similar for 'Blue Flame Ballet', where there's a dancer who is just so damn elegant that K.R.I.T. has to marvel at her skills, adding a veneer of class to your average strip club song that helps it stand out. But there's a twofold problem with going broader and lighter in the subject matter, and the first comes with a niggling issue I was observing across even parts of 4eva Is A Mighty Long Time: Big K.R.I.T. has a frustrating tendency to default to broadly sketched, quasi-Messianic platitudes full of slightly undercooked metaphors of space and light that after a certain point just start to run together. And when you have a project that isn't nearly as introspective to give those aspirational platitudes some gravitas, it can make those midtempo tunes have less weight, and it makes you wonder why he didn't just go for the straight bangers instead - it has the feeling of trying to coast on vibes but still feel more meaningful than it is, and more often than not the balancing act is undercooked.
But to wrap this up... look, I understand why Big K.R.I.T. made this project, but it's an album that reflects the wrong sort of prioritization, especially since he went independent and won over so many fans by making a rich and expansive work. And while a project like this was probably cheaper and quicker to produce and assemble, I'd argue it could backfire more than he'd expect, exasperate and disappoint the fans who have seen him do more, especially when he's not under the same major label obligation to chase hits! Now again, I don't think this is a bad project - hell, I'd argue the weakest cuts here are more bland and interchangeable that outright awful - and there are a smattering of solid to great songs... but I'd struggle to say they'd sit among his best. And while I'd say I'm less disappointed than most, I'm not gonna begrudge anyone who says this fell far short of expectations, which is why while I'm giving this a strong 6/10, I'm a little more hesitant to recommend it, especially in comparison with his albums in the past. If you're curious and you have an hour free, it's worth a listen... just temper those expectations, that's all I'm saying.