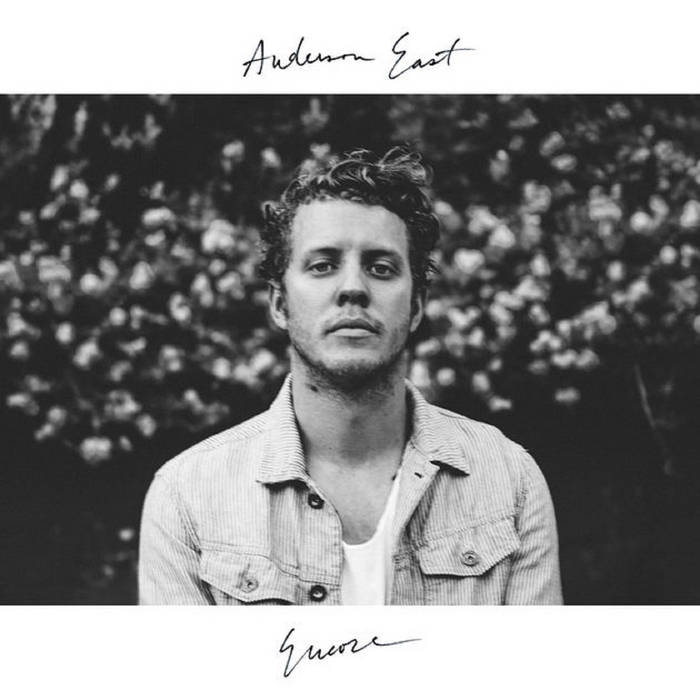 There's a part of me that thinks it's a little ironic that only days after releasing my top ten best hit songs of 1967 I'm now talking about Anderson East in 2018, and if you saw that list and my lengthy discussion surrounding white people cribbing from black music, you might see why.
Granted, the conversation about this brand of R&B and blue-eyed soul is complicated and has been for decades, with some highlighting it as conducive to cooperation while others consider it cultural appropriation, that dread phrase that's bound to make my comment section just a joy to behold. Of course, with blue-eyed soul you could make the argument it's more about cultural exchange and there's a certain code that should be understood by the artist: if you're going to use that sound, understand the history, bring respect, help to elevate those who pioneered the sound as much as you can, and you better not suck. And thankfully Anderson East seems to get this: his breakthrough came in 2015 with the album Delilah, produced by Dave Cobb and even partially recorded in Muscle Shoals, Alabama, which made sense for the hardscrabble blend of Americana and southern soul he was making. Of course, you all might know him better for two things: one, he's currently dating Miranda Lambert and showed up on her 2016 project The Weight Of These Wings, and two, he was also on one of the most fiery tracks on Southern Family, the Dave Cobb-produced compilation that was one of two records I've ever given a perfect 10 on my channel. Suffice to say with his release this year the expectations were high, and considering how good the critical buzz was, they had every reason to be. So, with the hope that we can redeem this album title from Eminem's critically reviled 2004 record, what did we get with Encore?
Honestly, this is one of those projects that I'm almost convinced was specifically designed to appeal to my fondness for these retro tones and this fiery presentation, and when you throw in Dave Cobb's ear for this sort of sound and grooves, you'd think I'd be praising this without question. And thus, I think it might come as a surprise to some of you that I'm not quite as fond as this as I want to be. I'm not saying it's bad or even mediocre, not by any stretch, but for as much as Anderson East wanted to emulate the tones of the golden era of blue-eyed soul in the 60s and 70s, you'd think he could at least update the writing to today's era a bit.
And that's the frustrating thing: Anderson East is growing by leaps and bounds as a performer, his voice picking up more crags and texture and sheer fiery intensity with every record. If you were expecting the more sedate side that came through on Delilah, Encore has a level of bite to Anderson East's delivery which is more than welcome - this guy is an utterly tremendous singer and presuming he doesn't blow out his voice howling the way he does he'll go far on that alone. But on the flip side he can ease back and deliver some real subtlety and quieter emotions on tracks like the closer 'Cabinet Door', and the delivery is just as powerful if not more so - in fact, I honestly wish he spent more time in ballad mode, and not just because of his poise and delivery, but we'll come back to this.
And a lot of the production definitely gets there too: given how Anderson East is going for pure retro blue-eyed Southern soul from the 60s and 70s, Dave Cobb plays into the sound and it's a natural fit. The basslines rattle and thrum, the guitars are warm enough to provide country texture and the percussion never feels overstated, but the swells of organ and blasts of horns are always given the full depth of tone against the arranged instrumentation, especially that saxophone on a song like 'House Is A Building' - this record sounds pretty expensive to record, and for once that might actually be a compliment for how lush and organic it is. And with Cobb in his natural habitat I'll actually give them credit for still keeping the tones clean enough to sound modern - sure, the vocals might trend towards lo-fi at points but between the terrific piano touches around the guitar on 'This Too Shall Last', the incredibly jaunty melodies driving 'Surrender' and 'Sorry You're Sick', all the way to the minor key blasts and fuzzed out synth solo on 'Girlfriend', it's a record that could play in 1968 or 2018, and that deserves credit. Hell, the most thoroughly modern track 'All On My Mind' with the thicker low-end swagger could go toe-to-toe with any blues act in the mainstream like Rag'N'Bone Man and eat them for lunch! Now that being said, I do wish this record was willing to slow down more - again, 'Cabinet Door' is a fantastic country ballad, but it's only a closing moment, and for as brass-heavy as this album is, it could afford a few more moments to breathe.
But that's really just a minor nitpick - I said there was something major holding this album back from greatness... and now we have to talk about the songwriting. And let me get this out of the way first: 'Cabinet Door' is one of the best songs Anderson East has ever written, with an eye for detail in capturing the weary grief of an old widower trying to move on after his wife passes, it's truly a stunning bit of work. And it's a damn shame the rest of the album can't quite bring the same detail and emotional intelligence - again, more thin than outright bad, but there are definitely questionable moments. I'm more forgiving of a track like 'Girlfriend' than most - mostly because the instrumentation plays the unrepentant admission he's in love with his buddy's partner with the ugly gravitas that a fight is coming - but not quite as excusable is how he doesn't seem to take 'no' for an answer on 'If You Keep Leaving Me'! And what's frustrating is that you can tell at some points this is East sticking with uncomplicated, old-fashioned sentiments, like how he sees the problems will work out on 'This Too Shall Last' or 'Without You', or the self-deprecation of 'Surrender' or 'Somebody Pick Up My Pieces'... but in 2018, the latter set of tracks don't quite play as charming as I think he'd like. Hell, 'Sorry You're Sick' might be kind of over-the-top and goofy with its solution of 'this sucks, let's get drunk and forget about it', but the charm rings through a little more. And 'King For A Day' might be the classiest way anyone has asked for a one-night stand I've heard in a long time - but it's also indicative that he's at least a little more aware of modern conventions, which leaves the lack of deeper consideration on some tunes a little less excusable.
But still, this is a strong sophomore follow-up that shows a beefier sound and Anderson East growing into a powerhouse of a singer, even if the songwriting is taking a bit to catch up. He's definitely getting there - songs like 'Cabinet Door' and the well-arranged metaphors of 'House Is A Building' shows he's on the right track - but it's a growing process and I still think he's shy of greatness. For me, though, it's still a strong 7/10 and definitely recommended - this guy has a ton of potential going forward, and I'd love to see how much more he could really bring to the table, so check this out!