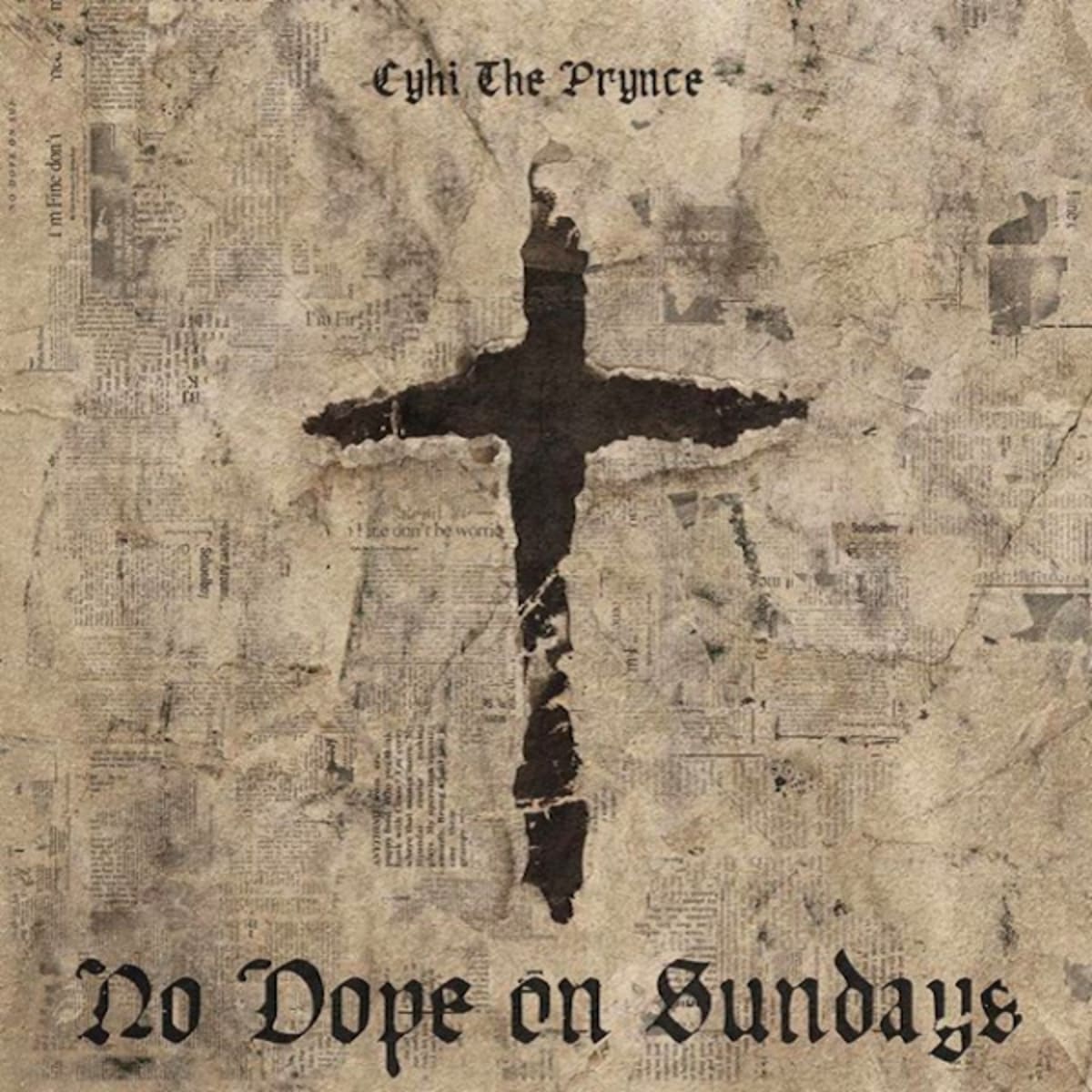 So this is one of those debut albums where I can see people being shocked in five or ten years that it took this damn long to come out. Hell, there were a few cynical folks that said the hype would never pay off and we'd never get a proper debut, but for those people following CyHi The Prynce and his fans, it has felt like we should have gotten this record years ago because of all the hype. He was signed to Def Jam in 2009, got a cosign from Kanye and signed to G.O.O.D. Music a year later where he contributed to My Beautiful Dark Twisted Fantasy, he had credits on Cruel Summer and Yeezus all the while he continued to churn out mixtapes, and with his Black Hystori Project tapes even notched some critical acclaim... but where was the album?
Well, I'm not going to say I know the answer here - there was apparently some label confusion and he eventually wound up getting dropped from Def Jam altogether - but I did take the opportunity to go back through those tapes and to my shock I was a lot less of a fan than I wanted to be. And believe me, that came out of nowhere considering I liked his flair for detail and his very real charisma and he tended to have great taste in textured and interesting samples and hooks that went big... but the more I listened to his tapes the more I got the impression of an MC who had a lot of bluster and hard words for people not following the right, respectable path, and yet a fair bit of evidence he wasn't always toeing the straight and narrow either, especially in some of his attitudes around women. Now this is not an uncommon predicament for artists who want to be heralded as leaders in hip-hop, but artists like Kendrick and Big K.R.I.T. are always intensely introspective and self-critical, digging into what their potential hypocrisy and failures meant and reflecting on their experiences to refine some of their most nuanced and compelling work. With CyHi... the seeds were there, but especially on the second Black Hystori Project tape the messaging and hypocrisy began to ring more sour for me. But hey, maybe now that we have a full-length commercial debut - clocking in at a whopping seventy-two minutes - we'll have the room for that deeper introspection to really make things click, right?
Well, folks... look, I wish I could say I liked this more, because there are a lot of seeds of an interesting debut project here. But like entirely too many major label debuts before him, from Pusha T's My Name Is My Name to Vic Mensa's The Autobiography it feels compromised, diminishing the parts of CyHi's appeal that hooked me from the mixtapes and spreading them way too thin across an overlong record that leans on message that has grown less and less tolerable. I'm not going to call this bad, but I will say as someone who wasn't even really a huge fan of the guy, I can call it disappointing.
And I think some of the conversation has to start with CyHi The Prynce himself - and again, I normally like this guy as an MC. His flows connect, he's got the sort of consistent skill I can like and respect, and while there are points I think he could afford to flow a little more aggressively or bring a little more intensity, he certainly carries himself with an authoritative presence that can be appealing... up to a point. We'll get into this more when we talk about more of the content, but what caught me off-guard were the obvious concessions he was making to mainstream trends that don't remotely fit. Why, for instance, are we getting blatant autotune on 'Movin' Around' with ScHoolboy Q phoning it in, or on 'Looking For Love' or the hook of 'Free', or that ugly flattened vocal pickup on 'Dat Side' with Kanye? And that's not counting the points where CyHi tries to yank his voice into a higher register like on the odd whooping flow of the title track, or how he tries to make his awkward cracking delivery on 'Trick Me' work and it just sounds like he should have gone in for another take when he felt better, to say nothing of trying to force 2 Chainz into a more staccato delivery that doesn't fit him. Now that's not saying all the guest stars fumble - Estelle is fine enough on 'Murda' but I will say I liked her a lot more on that last De La Soul project, both BJ The Chicago Kid and Jagged Edge contribute some decent R&B inflected vocals on their songs, and Travis Scott does his thing on the closing track, almost to the point of overwhelming it. But the absolute standout was Pusha T on the title track, who delivers a straightforward, remorseful, and surprisingly affecting verse to close out the track that might just be my favourite verse on this entire album.
And it's important to describe why: what Pusha T gets to on this album is subtext and depth, with a level of expressive subtlety that the more I listened to CyHi's verses the less I heard. Sure, you get your fair share of corny punchlines, but that doesn't bother me nearly as much as the framing and presentation of a lot of this content, where CyHi takes upon the role of hip-hop's respectable prosperity gospel preacher, complete with an album intro that opens with twelve commandments for the streets and numerous samples of a gospel preacher. Now I'm not saying this couldn't work: the integration of more gospel in hip-hop in recent years has been intriguing, and with the right subtext and framing and a willingness to dive deeper into religious iconography or explore the complicated morality of gangsta rap there's a lot of potential for real drama... and I can't help but feel CyHi misses the mark and refuses to capture any deeper, spiritual vibe, mostly because his own sense of internal morality seems remarkably inconsistent and his conviction can step over the line of feeling hectoring without greater depth. He preaches not to rob or kill... except when he and his crew do it on later songs, with the sort of thin excuses that show either a lack of greater moral consideration or a refusal to actively target the system with the same vigor he brought to the first Black Hystori Project. And what gets actively exasperating is that for as detailed as his drug-running come-up stories can be, there's a serious lack of deeper introspection or self-examination, and when you choose to use so much religious iconography and framing, the blatant hypocrisy becomes intolerable, with the feeling that if any personal or religious code is being followed - and that's a big if - it's the letter and not really the spirit. It gets particularly exasperating when he writes about women: yes, speaking from the perspective of the unborn child questioning the mother's decisions on '80s Baby' is an interesting take, and I didn't mind the expanded metaphor behind the girl on the sleepy 'Free', but between the ugly condescension of that second verse of 'God Bless Your Heart' or how self-aggrandizing 'Looking For Love' feels, it intensifies that sour feeling of unforced ego that he feels he knows exactly what is best. And that can lead to weird lyrical choices, like on 'Nu-Africa' which is about how wealthy black people in the US can rebuild and reinvigorate the motherland in their own image, and there's a sense of utopianism reinforced by Ernestine Johnson's monologue at the end of the track... and yet CyHi spends the second verse focusing more on the African girls with big tits he's looking to nail.
But okay, even despite framing that I find frustrating and some exasperating lyrical choices that somehow manage to undermine even that, maybe the gospel swell could redeem it or we could get a few of the big, expensive hooks that you'd expect out of G.O.O.D. Music, right? Well, there's certainly an emphasis on 'big', as all but two songs run comfortably over four minutes - and while you could definitely question whether that was a good idea when the lyrics can feel as surface-level as they often do, if the samples and hooks were strong it'd be okay. And yet, for a lot of these hooks I'm just not all that impressed, and I think some of it has to used with how these gospel samples were used. I know it's just my preference, but if I'm going to get gospel swell in hip-hop, there needs to be something to emphasize an edge or intensity: the rough edged yet gorgeous swell of Kanye's 'Ultralight Beam', Chance The Rapper's organic warmth on 'Blessings', or even just the rough-edged firepower we got on Big K.R.I.T.'s last project with songs like 'Keep The devil Off'. And yet with No Dope On Sundays, I'm not hearing that fire or bite - opulent and expensive samples that stumble under the weight of their significance, like with Earl Klugh's 'Living Inside Your Love' that's already been sampled by J. Cole and 2Pac, or on songs like 'Murda' and 'Closer' that are so heavily reliant on the samples for their bite they don't rise above their influences. Now that's not saying some of the production doesn't have texture of good melody - I dig the horns and swells of organ beneath 'God Bless Your Heart' and increased gospel vibe behind the warm grit of title track, the scratchy bass-heavy 'Nu-Africa', the muted keyboards and deeper knock of the beat behind '80's Baby', and that sample switch-up on 'Closer' was pretty damn great. But on the flip side, for as much texture as these songs can have you get the seedy keyboards on 'Dat Side' or the very muted trap stutter of 'Movin Around', and none of it has much of punch or momentum, not helped by songs that can let the outros and sample drag.

But as a whole... look, I don't dislike this album, but I also can't deny how flat and stodgy and frustrating it felt with much of its content, lacking the punch and depth that CyHi has delivered at his best and replacing it with mainstream compromises, inconsistent moralizing, and production that seriously started to drag. It's a pretty dry record, but it doesn't have the lyrical depth to justify it, and it's not colorful enough or loaded with the sort of hooks and firepower that, say, Big K.R.I.T. brought to 4eva Is A Mighty Long Time, which is even longer but is a much easier listen. As such... man, I should be harder on this, but for me this is an extremely light 6/10 and only really a recommendation if you're a fan or you wanted to see the hype pay off, and even then, I can't promise you'll be convinced it was worth the wait. As it is right now, I'm not sure I am.