There have been a lot of people who have said that 2017 has not been a good year for music, on the charts or otherwise... and from a certain point of view I can see it. Hip-hop in particular has had a really rough past few months, and between pop stars flopping, mainstream country continuing to spiral, and entirely too many records from established acts not living up to their potential, indie or mainstream, I can see why people are calling 2017 a disappointment.
I can also say that I don't buy it for a second, because for me, 2017 has been awesome. I already have plenty of songs to line my list of the best hits, and going into this point at the midyear, I have more records that I've scored 9/10 than ever before. Granted, it also seems like one of those years where the critical darlings aren't quite crossing over in the same way, and if you haven't heard of most of my favourites, that would be why - and that's not even counting the stuff I had to cut, and man, there were a few rough choices there. I think part of this comes from Patreon helping to shape my requests - once the scheduling got figured out as part of this experiment, things began to click and I started covering a lot of stuff I really loved.
S
o you all know the drill by this point: twelve albums in order - an order that could shuffle by the end of 2017 - twenty-four songs in chronological order of my reviewing them (yes, I'm expanding the list, it's that kind of year), and keep in mind that if they don't make this list they've still got a real shot for the list at the end of the year, so let's get this started with...
12. This is always the hardest slot for me to fill - this year more than most, because in a year with so many fantastic records, the merely great albums face much stiffer competition. So if you're wondering why certain records that I and the rest of the world praised aren't here... well, they missed the cut. And yet still, my choice of this record even surprised me a little bit... I mean, it's not the sonic evolution of Spoon or Hurray For The Riff Raff or the unquestioned excellence of Idles or Jamie Wyatt or Creeper or the refined expansion from Father John Misty or The xx - hell, from a cursory glance it's the sort of alternative rock that in a different time would have crossed over to the radio, what the hell is this?
This record grew on me more than I ever expected, even coming off of the review. Individual songs like 'Happiness', 'Ashes, Ashes', 'Pretty Low', 'St. Paul', they stuck with me in a way I can't quite describe. And I know I'm praising this more than pretty much every other critic did, but considering the leap forward in writing and the poignant honesty that ran through the delivery, this was one of my bleak, burnout records for every moment of that I had this year. And for that, while I know a lot of people will dismiss it, I still highly recommend you give Deaf Havana and this record a look - there's a place for records like this - beyond this list, of course.
11. So there's not a lot of hip-hop on this list - mostly because I'd make the argument hip-hop hasn't really had a great year in 2017, not compared to 2014 or 2015. Even an artist like Kendrick Lamar who gave us DAMN. this year... it didn't feel like his best, especially coming off of To Pimp A Butterfly. Instead, the record that I kept coming back to more... yeah, it's this.
I'll be honest, more often than not I've overlooked Joey Bada$$ and his crew when I talk about hip-hop that I love - and yet that changed in a big way in 2017 with ALL-AMERIKKKAN BADA$$. The melodies and hooks were so strong, the content was on-point, the bars may not have been as layered but their directness was unbelievably potent, and it showed a stylistic evolution for Joey that opens up so many potential avenues for growth and expansion. In a just world, so many of these songs would have radio play, especially as so many felt like singles waiting to happen, and while we in Canada actually got a few to chart - oh, the irony - I still think this record has not gotten the airplay it deserves. Seriously, check this out, it's so worth it.
10. And speaking of stylistic growth and evolution that has gone unappreciated by too many in the mainstream public...
I was a little hesitant placing Melodrama on this list at first - I mean, I knew it was great, the inspired choice of producer and star that showcased another level of expressive writing talent and delivery that won me over a fair bit more than her debut, but would it have staying power? Then I relistened to it - and then relistened to it three or four more times to be sure and once more with feeling. Let's not mince words: even if the hits dry up Lorde is the sort of artist that we'll be talking about for years to come, and with Melodrama, she showcases so much more of that potential. If you haven't heard it, you need to.
And now, here are a good eight songs from albums that didn't make this list, but definitely deserve your consideration!
From I See You, 'Replica' by The xx
From Puxico, 'This Town Still Talks About You' by Natalie Hemby
From Road Less Traveled, 'Same Day Different Bottle' by Lauren Alaina
From Near To The Wild Heart Of Life, 'Near To The Wild Heart Of Life' by Japandroids
From chill, dummy, 'Gravedigger' by P.O.S ft. Angelenah
From Little Fictions, 'Magnificent (She Says)' by Elbow
From Felony Blues, 'Stone Hotel' by Jamie Wyatt
From Divide, 'Castle On The Hill' by Ed Sheeran
And now, back to the list...
9. This group has made my year-end list before, and just like the last time, it always feels strange putting them on it, mostly because my love of this band feels so contr
ary to so many music critics. I mean, it's so old-school and overblown and obviously worshiping at the same altar as Tame Impala, why would you listen to them?
I don't think people give Temples nearly enough credit as a psychedelic group, this time shifting from rock to more of a synth-driven direction - their sound may call back to the 60s, but it's the sort of throwback that gently updates the sound and contains the sort of melodic grooves that will stick in your head like nothing else. I can't lie, so much of my love for this band comes in the fundamentals of great composition, and when you pair it with colourful and insightful writing that has never gotten the praise it deserves, Volcano remains one of my favourites of the year, and definitely deserves a lot more attention.
8. And speaking of retro-leaning acts that deserve so much more critical attention...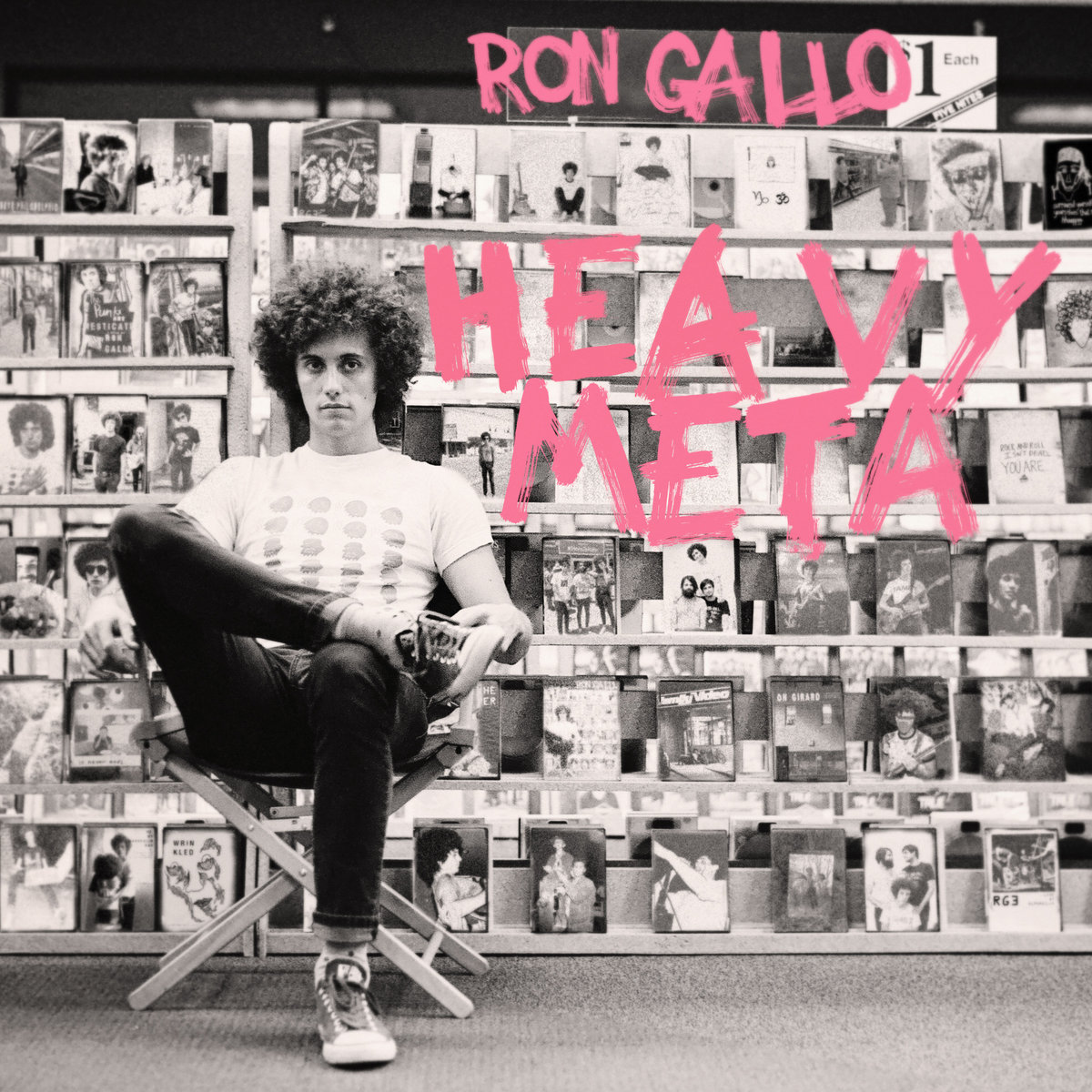 There's a part of me that feels I may have overpraised Ron Gallo a bit when I reviewed HEAVY META, especially when you start tracing the roots of his style of rock. Yes, the Stones influence is blatant, and I can't in good conscience say that he's not doing anything Kyle Craft isn't doing with more flair and style. But again, it comes down to rock solid composition, great grooves, and a frontman unafraid to live up to this record's title in the best way possible. The writing is terrific, the hooks stick with you, it's the sort of swaggering noisy garage rock that bites deep and doesn't let go. Too many of you haven't heard of Ron Gallo - fix that!
7. I feel like every year I say that I don't cover enough black metal, and I don't know if it's a problem of me not knowing where to look for it or not putting enough on my schedule myself. Because when it's there you guys vote for it and it's turned out pretty damn awesome, so what am I missing here?
This album threw me off guard a little. Yeah, it's the sort of atmospheric black metal for which I'm a very easy sell, but there's so much more beyond that. The production balance, for one, showcasing the sort of diversity and edge in its tones that I can recall to this day, all across six mammoth tracks that hit with thunderous presence and power. And that's before you get to the writing - there is a gruesome level of visceral detail in this poetry that hits the spot between primal beauty and primeval decay. I cannot promise this will be for everyone - even for black metal this goes in some twisted progressive directions, it is definitely an acquired taste - but once you get it you'll keep coming back. Somehow, Fen keeps pulling it off - definitely check this out!
We're at the halfway point, so why not another eight songs from records that missed the cut, but are awesome regardless?
From Common As Light And Love Are Red Valleys Of Blood, 'I Love Portugal' by Sun Kil Moon
From The Breaker, 'The Breaker' by Little Big Town
From Hot Thoughts, 'Whisperi'lllistentohearit' by Spoon
From Eternity, In Your Arms, 'Black Rain' by Creeper
From Pure Comedy, 'Leaving L.A.' by Father John Misty
From DAMN., 'DNA.' by Kendrick Lamar
From inFinite, 'The Surprising' by Deep Purple
From You're Not As _____ As You Think, 'No Halo' by Sorority Noise
And now back to the list proper...
6. Hey, I just covered this a few days ago... why haven't you heard it yet?
As I said in the review, I was on the fence whether this album was better than the self-titled release, and I ultimately don't think it is, they're about even. That said, when you have a record with this much intellectual weight, cacophonous power, a frontman who is only showing more talent and versatility with each release, and better hooks than ever before, of course it was going to make this list! Algiers is making the sort of political music that isn't just relevant, it's high-minded in the best way possible. Nearly every critic is already singing their praises for this - as they should have been for the last record, but oh well - and yeah, this time it's so worth it.
5. So this record has gotten a fair share of controversy, from mainstream country fans wary about the politics to indie fans exasperated by the shifts toward more direct songwriting to critics utterly missing the point. And yet it's his highest selling solo record thus far - guess the controversy isn't slowing him down that much!
At this point what more is there to say about Jason Isbell as a songwriter? Because with The Nashville Sound bringing back the rock with a vengeance, he's still showing the sort of attention to detail and insight that rarely will get the credit it deserves. Coupled with Dave Cobb finally getting a good handle on southern rock production, this is a record where Isbell confronts not just half-buried demons but also a very real reason to fight and care going forward, the sort of real admission that might not feel as dramatically satisfying but is so much more human. Yeah, there's a part of me that still loves Something More Than Free a bit more, but overall if caring becomes controversial, I think both Jason Isbell and I welcome that controversy - because this record rules.
4. The fact that this record works so damn well... it kind of blows my mind, because if you remember where Mike Hadreas started... to evolve to this point and this sound might seem natural but it could have gone wrong in so many ways in terms of sonic balance and the writing. And yet...
It's an utterly gorgeous and over-the-top release that still manages to have a throbbing human core. It pushes Hadreas to his limits - where he meets them. It's a record that wants to escape into flights of fantasy, and yet in realizing you truly can't instead finds a very human love that would transcend it. This is baroque pop at its most ornate... and yet it's catchy as hell, driven off another starmaking performance and a beautiful story to boot. Unsurprising to everyone this record has also been getting mountains of critical acclaim... and yeah, definitely deserves it.
Top three is up ahead, but in the mean time, here are the final eight songs that definitely deserve your attention!
From The Seven, 'Nine Point Five' by Talib Kweli & Styles P, ft. Sheek Louch and Jadakiss
From The Navigator, 'Pa'lante' by Hurray For The Riff Raff
From The Source, 'Journey To Forever' by Ayreon
From Love And War, 'Go To Bed Early' by Brad Paisley
From Brutalism, '1049 Gotho' by Idles
From Harry Styles, 'Ever Since New York' by Harry Styles
From Gone Now, 'Don't Take The Money' by Bleachers
From Wrangled, 'Only Blood' by Angaleena Presley
3. ...it was meant to drop at the beginning of 2017, that's when the physical copies were made available - it counts!
It was the first record I covered in 2017 and it remains one of the best, if only because Killer Mike and El-P seem to delight in finding new ways to top each other. The camaraderie and chemistry seems endless, the production is more expansive than ever before, and the bars never seem to stop. No, I wouldn't quite put this on the level of RTJ2, which was my top record in 2014 and had a little more of that rawness I loved so much, but RTJ3 was a mission statement coming out of hell and promising the reckoning, and hot damn was it worth it!
2. It's kind of funny - back in 2014 Run The Jewels scraped past this artist to top my year end list... and now the positions are reversed and neither are topping it. And yet it feels like I'm one of so few who are singing this album's praises...
There's a part of me that knows why Jason Eady doesn't get celebrated as much as he should - for country, he doesn't write easy music. The detail is rich and personal, his delivery is restrained but potent all the same, his production and sound takes the country template and refines to something damn close to perfection, no bells and whistles. And that purity can be intimidating to people who are unwilling to confront something this straightforward and yet nuanced and human - hell, it's the theme of the project! It's a simply incredible listen that is so easy to return to time and time again, easily could have topped this list... and yet...
1. Of all of my reviews on this channel, the one for this album probably required some of the most work. I listened through over a dozen records in preparation for this album to establish the context and the mindset to appreciate it... all for a record that pivoted away from so much of that history, I could have gone in cold. But the context helps, and I discovered a singer-songwriter in a class of his own, making the sort of record that could have so quickly became a gimmick and yet tilted in a way to challenge all expectations... and it's easily my favourite of 2017 thus far.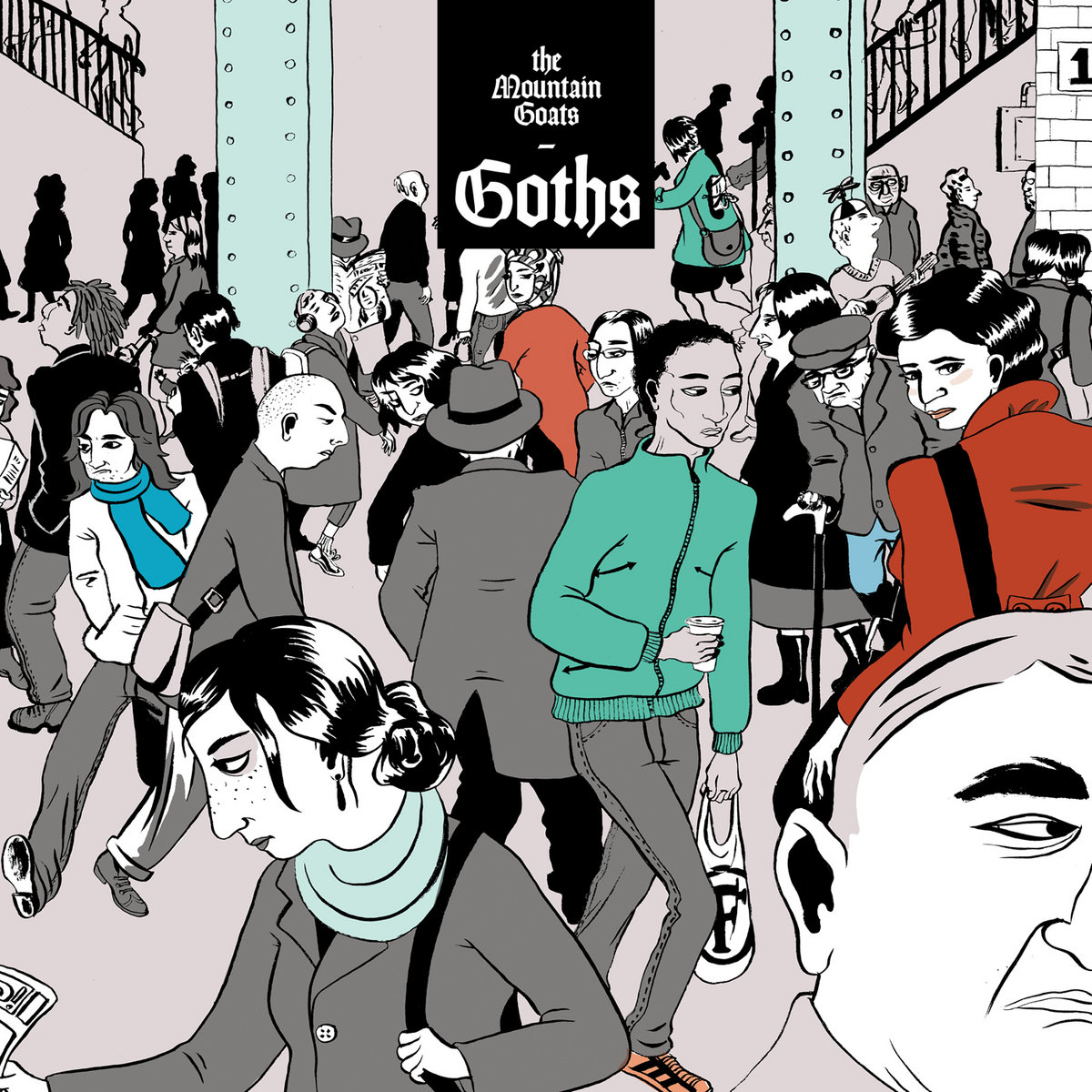 I've made friends in goth clubs this year talking about this record, mostly because this is an album that might revel in moments in the theatricality and bombast but also showcases the flawed humanity in a misunderstood subculture that we all still have. It sounds enough like goth rock to draw you in only to switch the script to showcase an oddly mellow but no less compelling picture that might soundtrack the normal life around you. It's an exploration that pulls no punches and examines every scar and detail, but ultimately is the sort of textured celebration that the subcultures needs and deserves. The Mountain Goats may have made better records or ones that resonate stronger for certain people, but for me... it's the album to beat in 2017, it got me that much. And if the rest of 2017 can measure up to this list, we're in for a grand year indeed!